MakeX  Spark Online Competition
「Smart Lights」
2020 Makeblock MakeX Robotics Competition
Project Submission: 17th Sep.-12th Oct.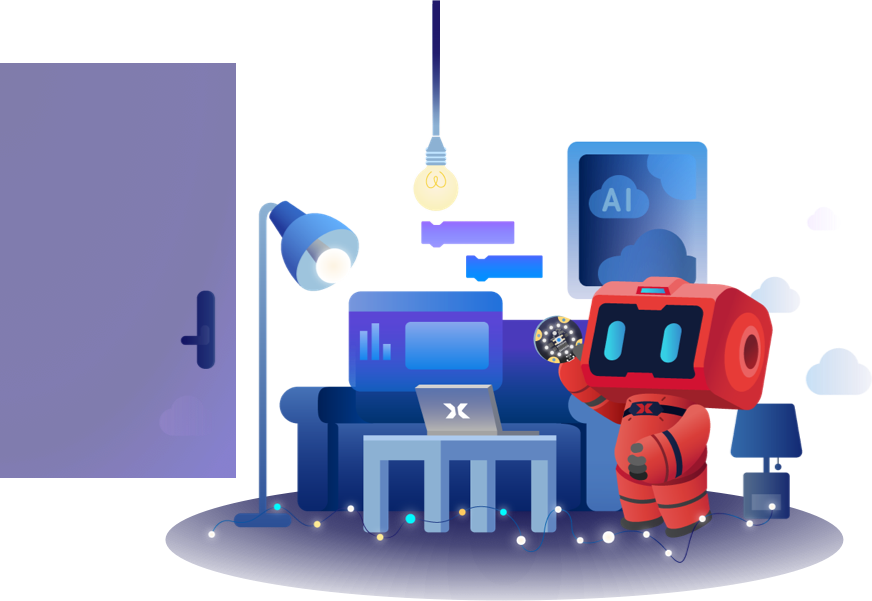 Participation Instructions
                         01

Publish&Submit

                                02 Assessment                              03 Result Publicity
 17th Sep. 2020                                12th Oct. 2020                                 27th Oct. 2020                             30th Oct. 2020
      14:00:00                                         14:00:00                                           14:00:00                                      14:00:00   
*All the deadlines are subject to UTC +8, China time.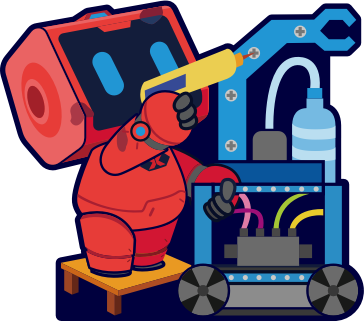 Contestants must use mBlock 5 (web or PC) to program the project. Each contestant can only submit one project. The requirements of the project and poster please refer to Chapter 4 in Spark Rules Guide.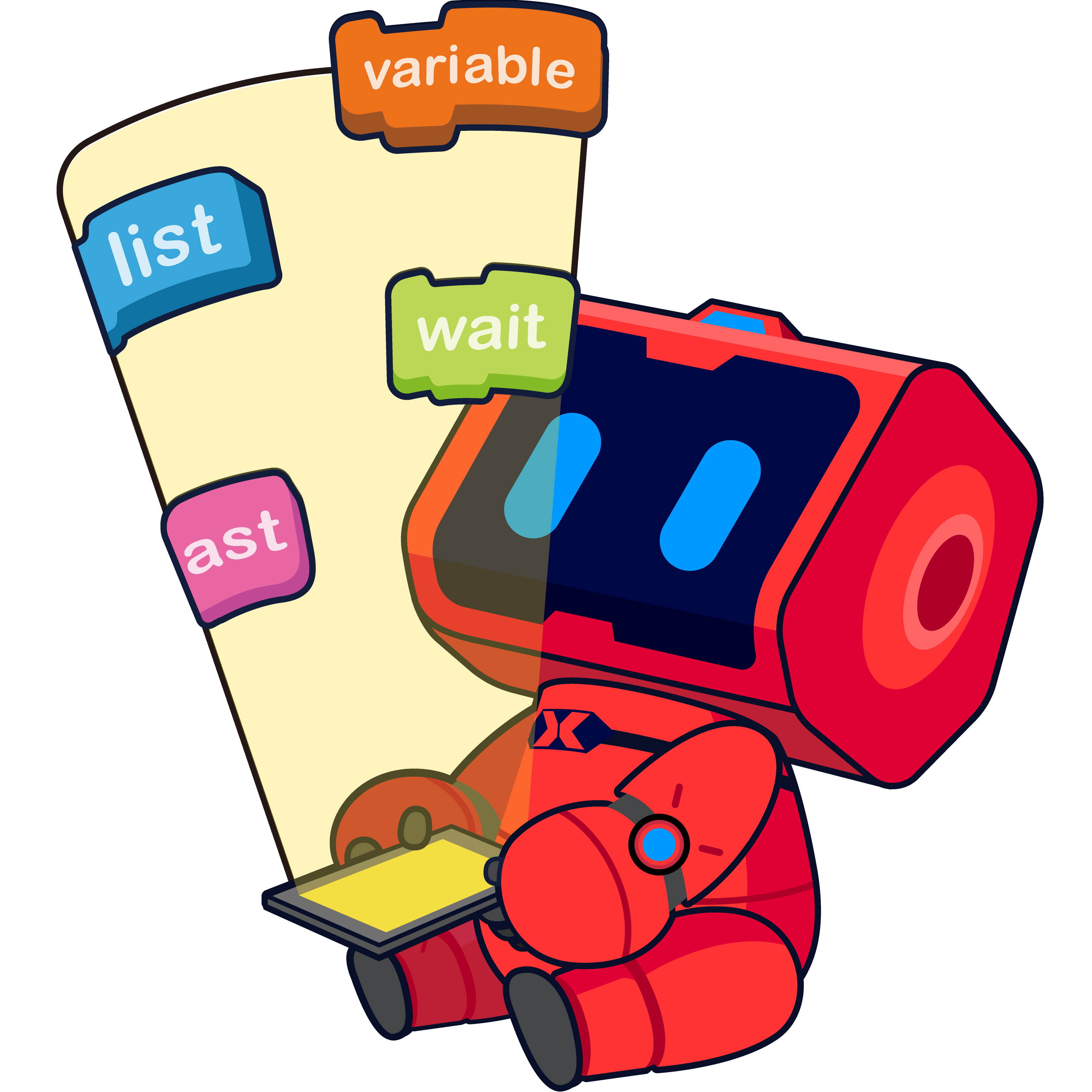 You need to publish your project before you submit it to this competition. Please publish during the valid period.(UTC +8. 14:00,17th Sep.- 14:00,12th Oct.)
Submit Project and Poster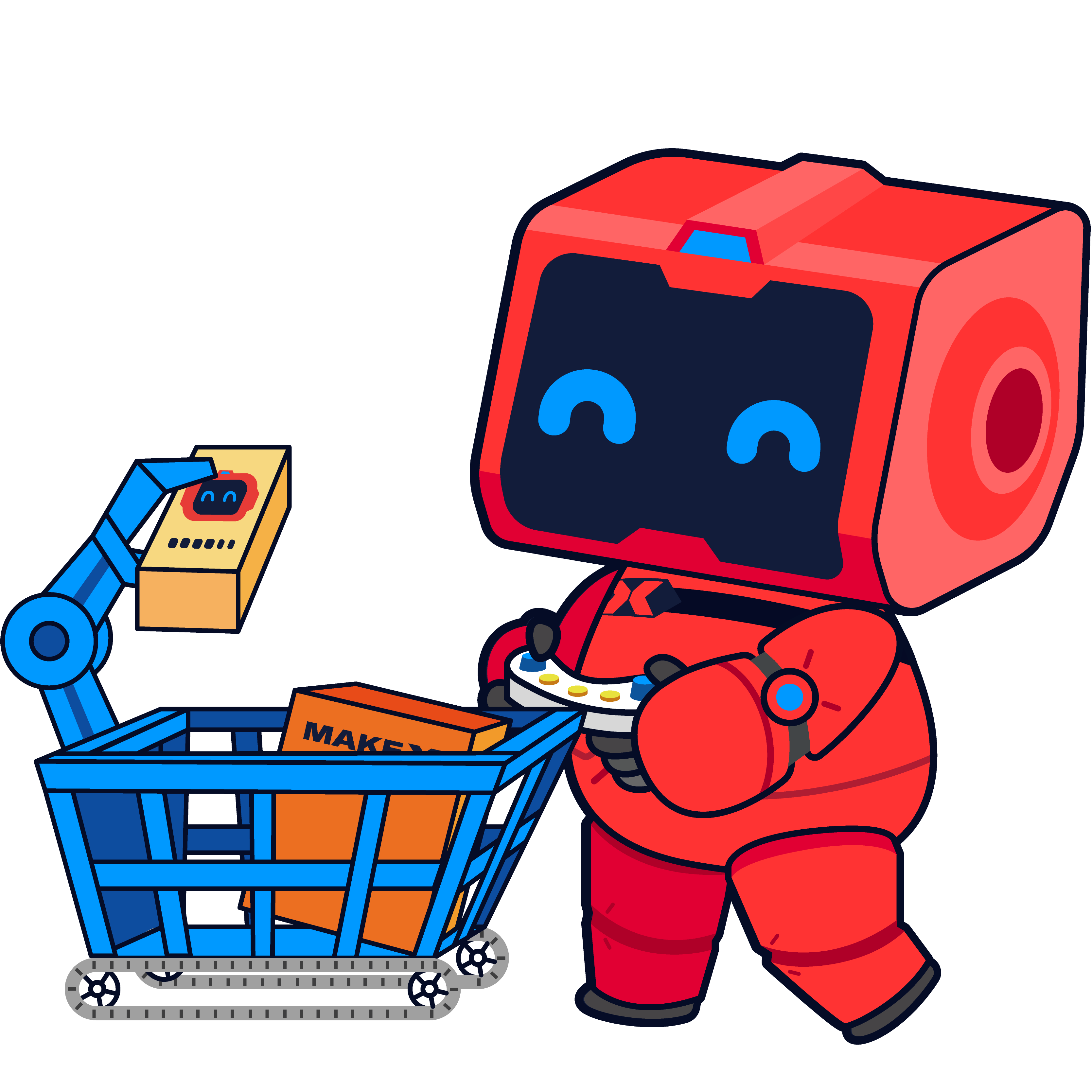 Choose the project, fill in the personal information, and upload your poster here. Please submit during valid period.The link will be open between UTC +8. 14:00,17th Sep.- 14:00,12th Oct.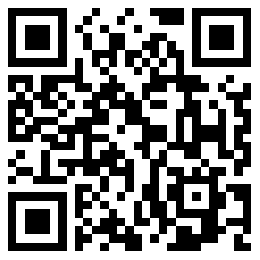 MakeX Spark is a creative competition program for young people. In MakeX Spark, contestants need to focus on the theme of each match, make full use of creativity, carry out the projects through software programming, hardware construction, and display the projects to others.
With the characteristics of low entry-level and flexible forms, Spark focuses on guiding teenagers to not only learn interdisciplinary knowledge and apply them to practical problems but also improve their problem-solving and logical-thinking abilities, developing their creativity and imagination. Through theme learning with practice, Spark helps contestants improve communication and expression abilities, and fully feel the joy of sharing.
The theme of 2020 MakeX Spark Online Competition-1st match is Smart Lights. Contestants need to create projects based on this theme through software programming and hardware construction.
Well-designed lighting sends light only where it is needed without scattering it elsewhere. Smart lighting system should be eco-friendly and energy-saving. How to create a better world with smart lights? Please contribute your idea and creation.
1. MakeX Spark online competition is an individual event. Each individual contestant can be instructed by one mentor.
2. Contestants are divided into two competition groups: 6-9 years old (inclusive) for elementary group, 10-13 years old (inclusive) for intermediate group.
3. The mentor shall be over 18 years old, and provide safety guidance especially during hardware construction and tools operation.
4. Each contestant can only submit one project.
1. Publish project: publish source code, fill in project introduction text, upload project
demonstration video, upload at least 3 pictures.
2. Submit project:submit the published project link and upload post .
*Contestants should publish their projects in the mBlock community and submit projects via the specific submission link(Please follow the steps in Participation Instructions).
*Contestants should use mBlock 5 to program projects. The hardware is not limited. Recommended hardwares are shown as following.
 If you want to buy any equipment, please contact the local distributor or MakeX Committee: makex_overseas@makeblock.com.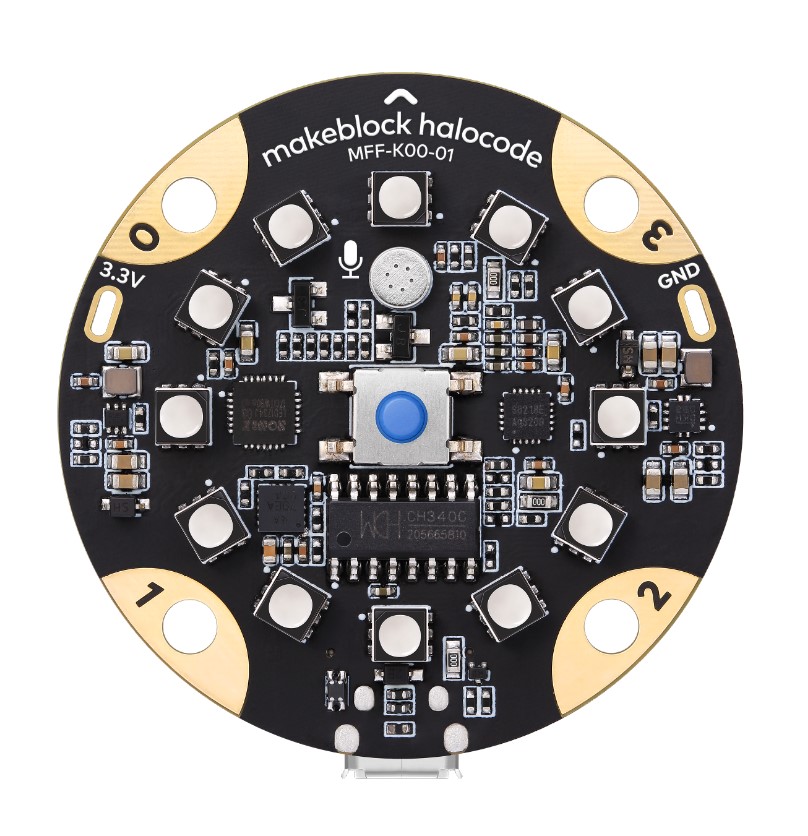 Halocode is a wireless single board computer. With its built-in Wi-Fi support and microphone, the students can easily bring your board into the IoT projects and add speech recognition ability to it. It comes with plenty of sensors, such as 12 x Programmable RGB LED light, a Motion Sensor, a Touch Sensor, and more.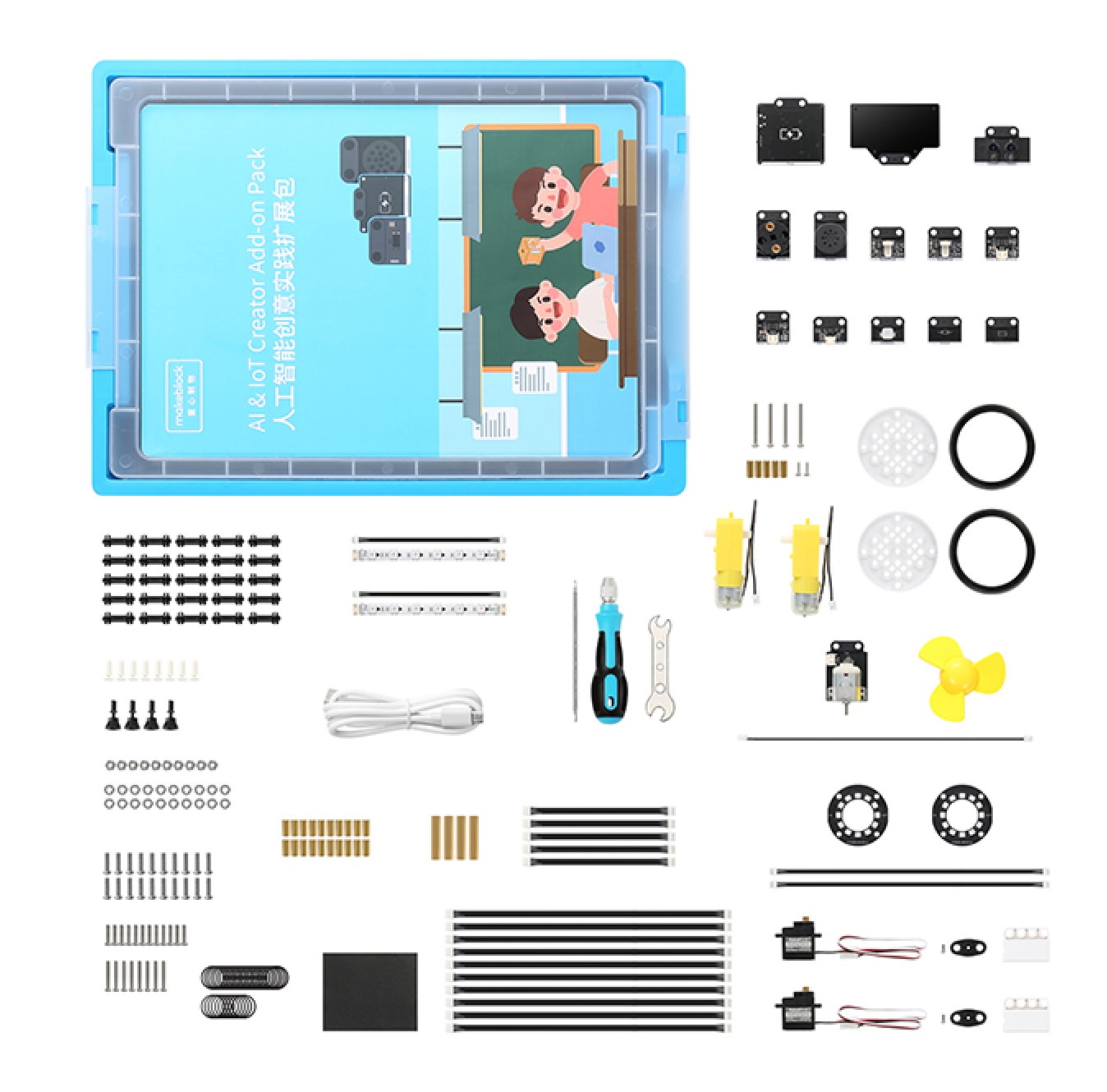 AI & IoT Creator Add-on Pack
If the mainboard like Halocode is not enough for your project, we recommend the combination of Halocode with the AI & IoT Creator Add-on Pack, which offers 13 mBuild electronic modules and 9 accessories packages equipped with appropriate building blocks, Python APIs, hardware online documents, assisted with wealthy teaching cases.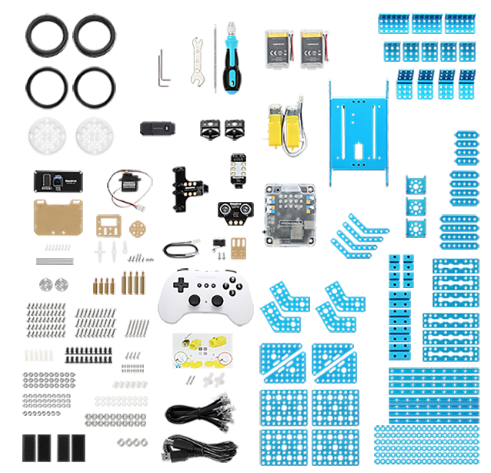 The 2020 MakeX Starter Kit includes mBot chassis, Bluetooth controller, high-speed motor for competition, RGB line following module, ultrasonic module and 9g servo. It forms a powerful software and hardware platform to meet the basic competition needs of the participating contestants.
*Under the premise of complying with the rules, the contestants who have not won any of the awards can acquire a Proof of Participation in order to be motivated to continue their efforts in future study and life.
In each competition, the top five contestants of the total score ranking can win the " Young All-rounder " award (can be received together with one special award). The winners of this award are qualified for entering MakeX World Championship, and they also have the opportunity to apply for the entry of World Robot Contest.
Young Engineer, Young Designer, Best Creativity, Best Demonstration
Under the premise of meeting the rules, the top 50% of the contestants in the score ranking of corresponding dimensions have the opportunity to win the special award. Only one special award can be obtained for each contestant. All the contestants receiving special award have the opportunity to apply for the entry of World Robot Contest.
The award is comprehensively decided according to the number of contestants and award-winning projects instructed by the same mentor. The quota of this award is five for each match.
The award is comprehensively selected according to the number of contestants and award-winning projects provided by the same educational organization. The quota of this award is five for each match.
Through MakeX Spark, contestants can reflect on their abilities in five dimensions.
*Under the premise of complying the rules, contestants may receive a STEAM Ability Assessment Report. The diagram on the right is an example of the abilities distribution.

ELECTRONIC TECHNOLOGY
Use various types of electronic modules
Achieve the functions of the project accurately and smoothly

PROGRAMMING ABILITY
Proficient in applying programming concepts or algorithmic techniques
Concise program with no bug

DESIGN ABILITY
Design complex mechanical structures
Use a variety of maker or art materials to design the outlook of projects

INNOVATIVE THINGKING
Unique and novel solutions
Clear target users and project positioning, highly related to the theme

COMMUNICATION SKILL
Speak fluently in the demonstration video
Show the complete problem-solving process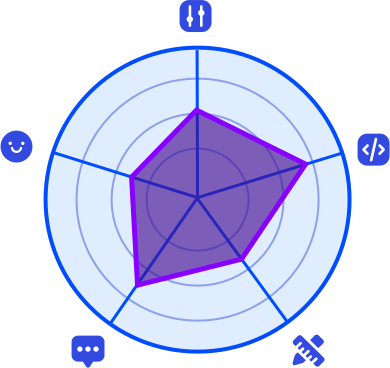 * Displayed in no particular order.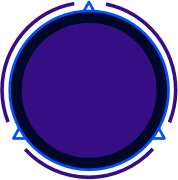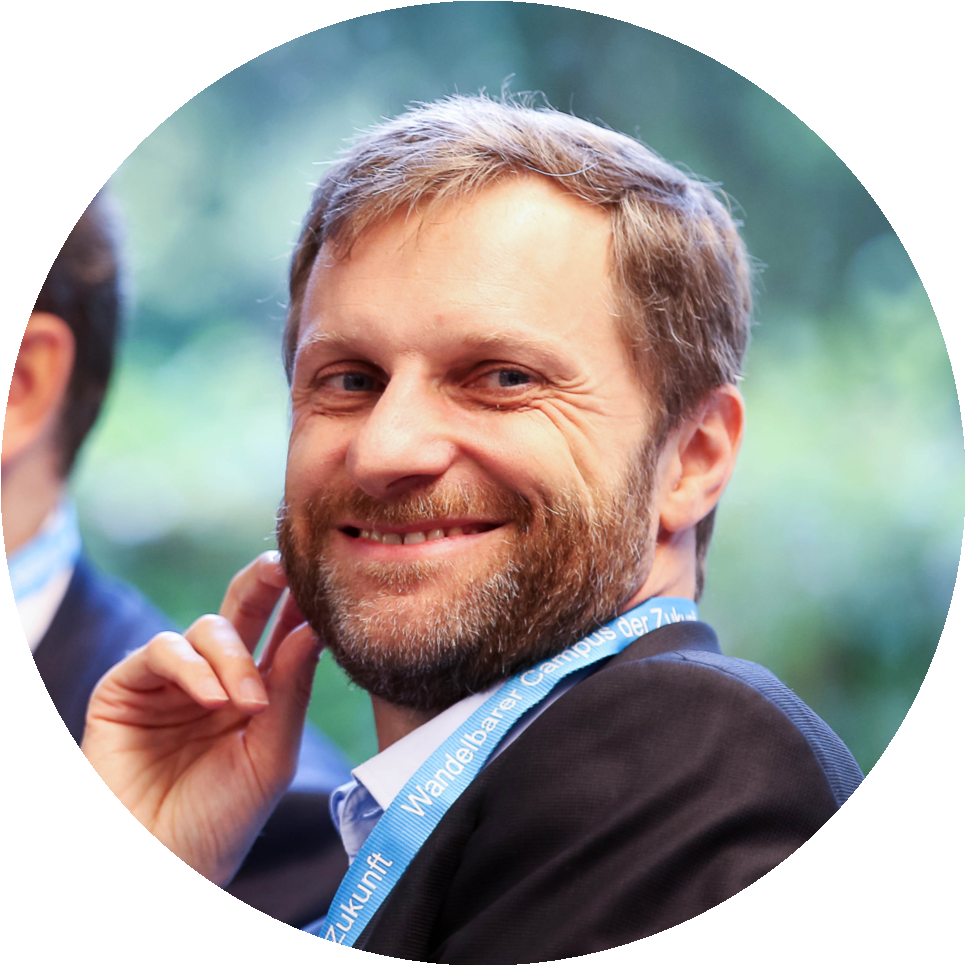 Prof. Dr. André Bresges is director of the Institute of Physics Education, the University of Cologne.
He currently researches the application of digital media in science education and the use of Learning Management Systems for K-12 and higher education. He is part of the Committee for Educational Technology in the American Association for Physics Teacher (AAPT).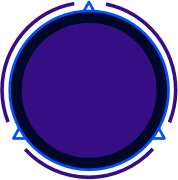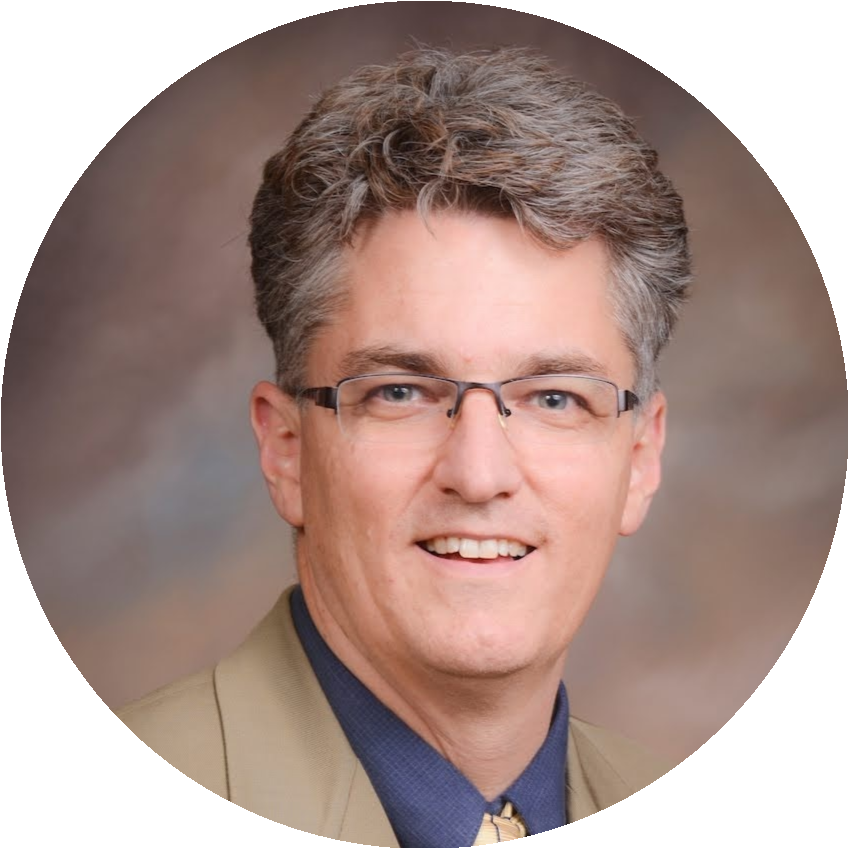 Dr. Smith is an associate professor within the Education of the Deaf Program. He is the co-founder of Texas Woman's University Future Classroom Lab (TWUFCL).
He spent a decade teaching K-12 students who are deaf/hard of hearing (DHH) at the elementary, middle, and high school in Texas public schools. His research includes deaf students' use of the Internet and technology, computational thinking with DHH students, and 21st Century Learning in deaf education.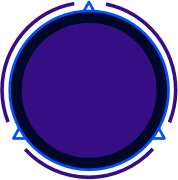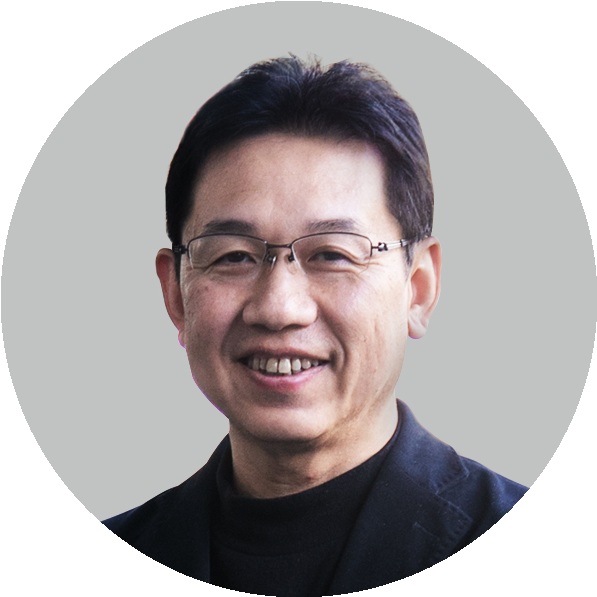 Prof. Yuhei is currently the vice dean of the Interfaculty Initiative in Information Studies, the University of Tokyo. His research focuses on technology-enhanced learning environment design including STEAM education.
He is the author of the book "Innovation of Learning Environment " in 2020. He was awarded the Good Design Prize (2008), Kids Design Prize (2012), and JSET Paper Award (2018).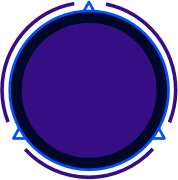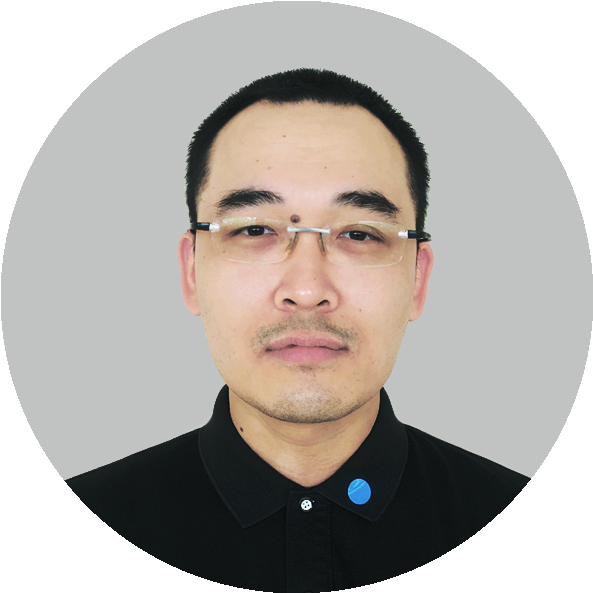 Mr. Nut is the lecturer of Robotics and Automation Engineering in the College of Innovative Technology and Engineering,  the  Dhurakij Pundit University. He has extensive working experience in industrial Automation System and Robot in Oil and Gas Industry, Beverage Industry, etc.
He was the head referee of the 2019 MakeX Thailand National Competition, and referee of 2019 MakeX World Championship.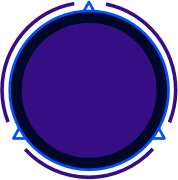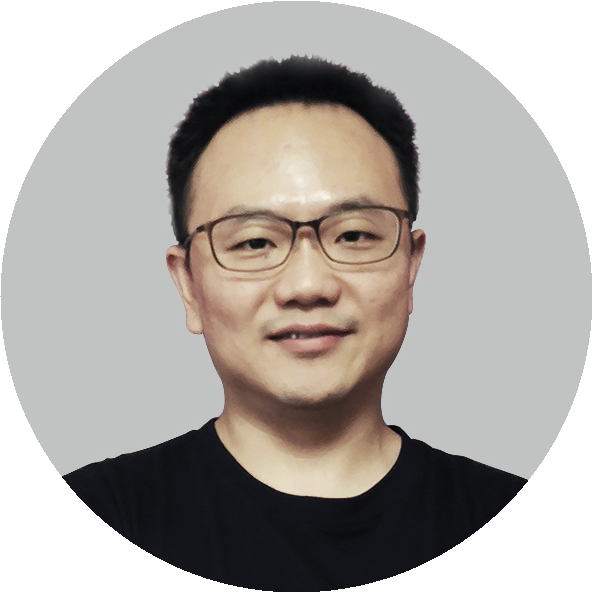 Dr. Fei is graduated from The College of Mechatronic Engineering and Automation, National University of Defense Technology,with doctor degree of engineering, research focusing on robot control. 
Since 2004, he has participated in many RoboCup international and domestic high-level competitions as the chairman of the organizing committee. He is also the Head referee of 2016-2019 VEX Robot Asian Open.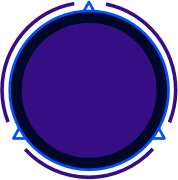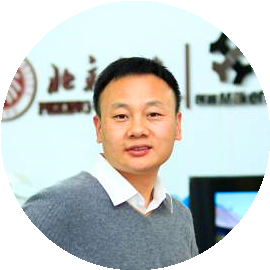 Mr. Lei is the former director of Innovation Project of Peking University Maker Practice Education Center, member of Global Youth Artificial Intelligence and Robotics Competition, and head of EwC-Entrepreneur World Cup China.
He is engaged in student innovation and entrepreneurship practice education for many years and won the Innovation Practice Award of Peking University for two consecutive years.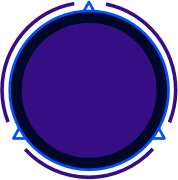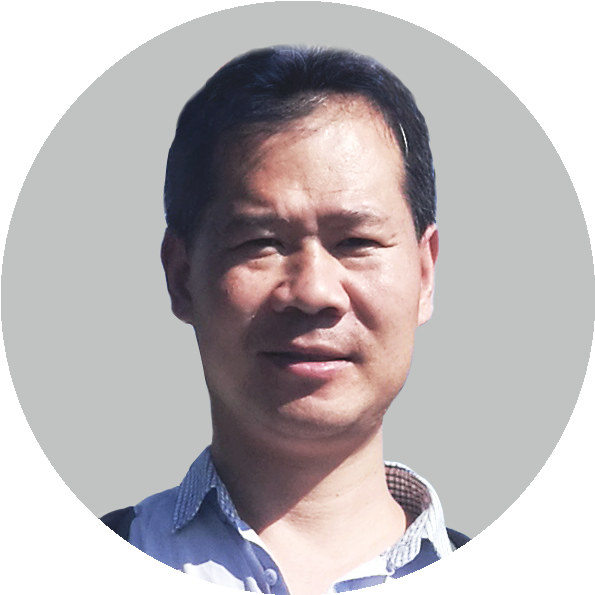 Mr. Shuaiqi is an associate professor and senior engineer; former R&d director of Multimedia Division of Tsinghua Electric Power Simulation Laboratory.
He obtained 1 national utility model patent and 7 software copyrights, with 16 years of experience in programming teaching, software development and management, and rich experience in innovation education and STEAM course design.
Judge panel of the 2020 MakeX Spark Online Competition consists of a Chinese jury and an English jury, each composed of judges, senior judges and expert judges. The Chinese jury is responsible for the assessment of the three Chinese competitions, and the English jury is responsible for the assessment of the two international competitions. All the project assessment work will be online. Each project is scored by several judges, and the disputed projects will be sent to the senior judges.

MakeX Robotics Competition Committee

Shenzhen Hulu Maker Co.,Ltd

Shenzhen Makeblock Co.,Ltd